Newspaper Report
de Volkskrant_Culture & Media
Written by Sarah van Binsbergen
Digital Version Publisged in March 30, 2023, 1:33 PM
Printing Version Published in April 01, 2023
From migration and displacement to the inner journey: expo 'Exodus' shows the contemporary journey to the Promised Land.At the exhibition in Maarssen, a collaboration between Buitenplaats Doornburgh and the Biblical Museum, 28 artists give their own interpretation to the second book of the Bible. And it is very diverse.
Artist Szu-Han Lin (1988) has lived in forty different places so far. 'The result of all kinds of family circumstances,' she explains. For her graduation project at the Design Academy Eindhoven, she traveled to these places for two years, with charcoal and large rolls of paper in her suitcase. On site, she tried to capture details in the ceilings, walls, and floors by covering them with paper and rubbing them with charcoal, a technique called "frottage."
She made wads of the frottages, which now fall down a wall like a swirling waterfall. In the adjacent video you can see Lin at work in former homes, from the market in Taiwan where she lived as a child to her current home in the Netherlands. 'With this artwork I want to invite viewers to think about what it means to be displaced,' says Lin.
Contemporary interpretation
Not Leave But Remain
(2022), as the installation is called, can now be seen in an exhibition at Buitenplaats Doornburgh.
Exodus
, a collaboration between Doornburgh and the Biblical Museum, gives a contemporary interpretation to the biblical book about the desert journey to the Promised Land. Moses is commanded by God to lead his people out of slavery in Egypt.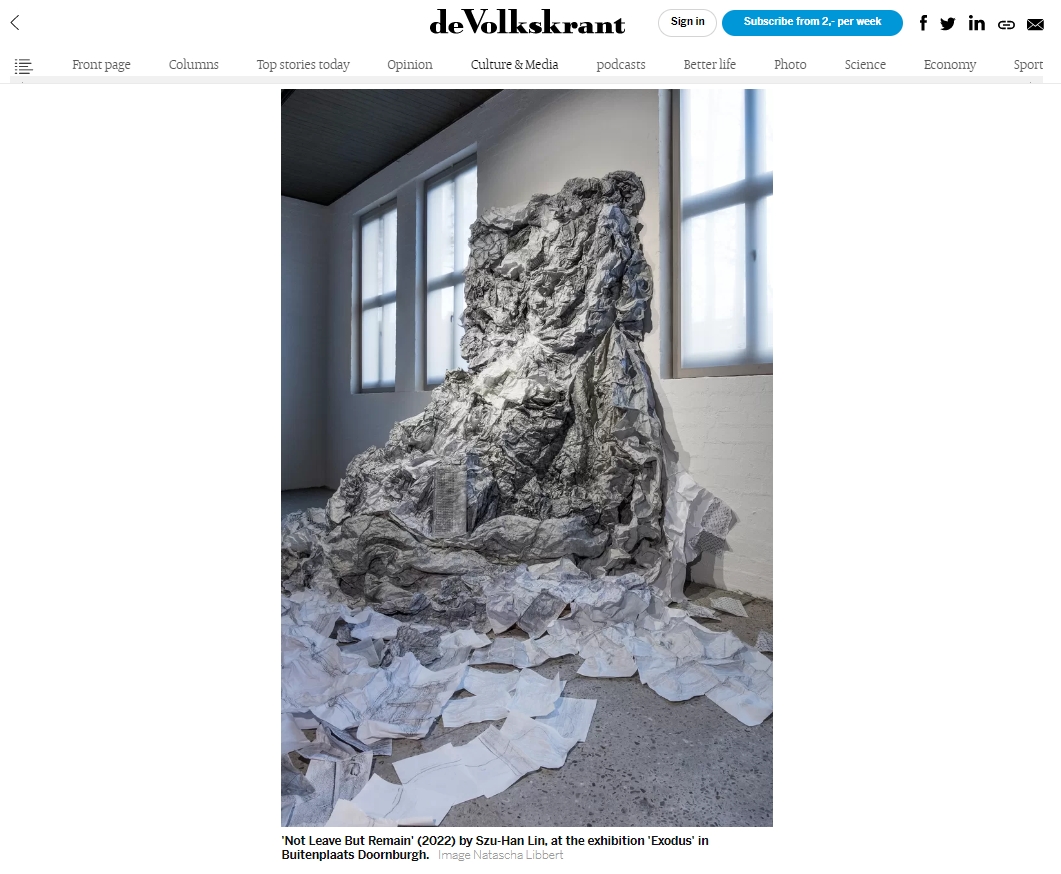 ©Natascha Libbert
Group Exhibition
EXODUS
Curated by a committee includingRaul Balai & Rikko Voorbergand Onno Zijlstra
March 23, 2023 – September 24, 2023
At
Buitenplaats Doorburgh
, Marrsen, Utrecht, NL
EXODUS, based on the collection of stories from the Bible, Torah and Koran, offers many interfaces with urgent social themes such as fleeing to the 'promised land', slavery and liberation, leadership and trust.

Contemporary art, urgent stories – that is what you will see in the group exhibition EXODUS. The exhibition, which follows the cloisters past small cabinets and large rooms, is dynamic in both form and content. There is room for intimate and personal works, such as the refined collages by Eva Spierenburg (Royal Prize for Painting 2022) and the fragile waterfall of paper that artist Szu-Han Lin made about her own emigration past. But there is also distinctly spatial work that visitors can completely immerse themselves in. Such as the critical installation with textiles by Antonio Jose Guzman, or the sea of salt mountains by AnneMarie van Splunter.


Committee chair Yuki Kho: 'It was a big, but also fun assignment to make a selection from the more than 700 entries. We are proud of the end result. It contains work made in different disciplines, by makers with different backgrounds and together tells a multi-voiced story.'


A group show featuring paintings and sculptures by ten promising Dutch artists.

In the group exhibition you will also find work by:
Mario Sergio Alvarez, Fatima Barznge, Bernardo Beirão, Celine van den Boorn, Airco Caravan, Anook Cléonne, Monika Dahlberg, Sam Drukker, Loes Groothuis, Esther Hoogendijk, Himmelsbach, Marcha van den Hurk in collaboration with makers of de Pauluskerk Rotterdam, Wianda Keizer, Zhixin Liao, Szu-Han Lin, Jaasir Linger, Mehdi Mashayekhi, Joyce Overheul, Marieke Ploeg, Cecilia Rebergen, Sybren Renema, Thom van Rijckevorsel, Hanan Saif, Gurt Swanenberg, Roosje Verschoor and Alydia Wever